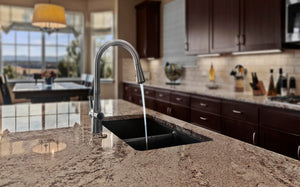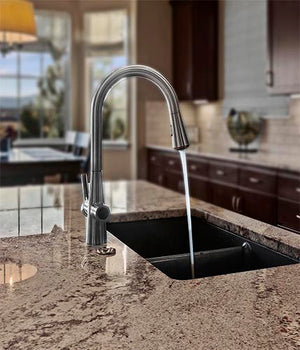 Instant Hot & Filtered Water. Full-Flow Tap. Pull-Down Spray.
All-In-One Faucet
Instant Hot Water
.5 Micron Carbon Filter
Full-flow Hot & Cold Tap
Pull-Down Spray
30% Off Holiday Sale!

Braise beef, boil potatos, blanch green beans, poach fish, or even remove candle wax with a single touch.
Imagine a sleek, full-flow, pull-down spray faucet that not only provides instant hot water and filtered drinking water, but whose compact components leave plenty of undercabinet space to spare. That's the 4N1 Aqua-System, a powerful all-in-one faucet for your home, RV or boat.
4N1 Aqua-System
The 4N1 Aqua-System is the most advanced, eco-friendly, all-in-one water solution for your kitchen.
It combines all the features of a full flow faucet, filtration faucet, instant hot water dispenser and a filtration system into a single transitionally designed system.
The full-flow tap and pull-down spray make it the functional workhorse every kitchen needs. Daily duties at the kitchen sink become more efficient and convenient while giving you a space-saving, eco-friendly product.
Patent-Pending Technology
Instant Hot Water
The most advanced instant hot water dispenser on the market offers on-demand hot water, adjustable temperature settings with digital controls and the longest warranty in the industry. It features a compact design with insulated stainless steel tank, as well as automatic safety sensors and 60 cups per hour capacity. It's eco-friendly, low-energy consumption makes it the perfect kitchen companion.
0.5 Micron Carbon-Block Filter
Filtered Water
Properly filtered water improves health, enhances the taste of food and beverages, and protects us from harmful toxins. But not all water filters are created equally. Because we care about the health of our customers and our planet, we ensure our recyclable filtration system meets rigorous NSF/ANSI certification standards.
SPECIFICATIONS

• Compact 7.5" W x 7.5" D x 10.75" H
• Insulated 304 Stainless Steel Tank
• 0.6 USG (2.4 litre) Capacity
• Shrouded Stainless Steel Heating Element
• Built-In 60 PSI Pressure Regulating Valve (PRV)
• Non-Pressurized Patent-Pending Bladder System (15 PSI-72 PSI)
• Built-In Dry Burn and Overheat Sensors
• Double Venturi
• PSU 5V
• 1500-Watt/120-Volt Rapid Recovery Element
• Standby Mode Reheat Trigger @ 6° Temperature Drop
• Standby Mode Energy Use 1-Watt
• Cabinet-Side or Floor-Mount Install Options
• UL Certification
• USA/CAN Electrical Certification
• CEC Appliance Certification
• 3 Year Warranty

FEATURES

• 60-Cups Per Hour Capacity
• Digital Soft-Touch Control Panel
• On/Off Button with Vacation Mode
• Seven Pre-Set Temperatures = 167º-208ºF
• Temperature Settings = 3º increments
• Digital Temperature Control Within 1ºF
• Patent Pending Engineering
• Shrouded Heating Element Prevents Limescale Build-Up
• Double Venturi Reduces Faucet "Dripping/Spitting"
• Cold Start Up 8-10 minutes
• Reheat After Tank Depletion 4-5 minutes
• 4-Base Mounted Feet Elevates Off Cabinet Floor
• Compatible with Other Filtration System Brands
• Compatible with RO Filtration Systems
• Only Compatible with 4N1 Aqua-System Faucets
SPECIFICATIONS

• Compact Design 3" Diameter x 11.5" High
• 2 Year Warranty
• Cartridge Capacity 1500 US Gallons/5,678 Liters
• 0.5-Micron Particle Removal with Carbon-Block Filter System
• Internal Silt Wrap
• Built-In Pressure Reducing Valve (PRV)
• Auto Shut-Off Head
• Water Pressure 25 - 120 PSI
• Minimum Flow-Rate .55 US Gallons/2.1 Liters
• NSF/ANSI Standard 53 Certified - Reduction of Asbestos, Cyst, Lead
• NSF/ANSI Standard 42 Certified - Reduction of Chlorine, Odor, Scale
• Cabinet-Side Mounting
• FLC1000 Replacement Filter

FEATURES

• Recyclable
• Reduces Carbon Footprint up to 90% vs. Traditional Filters
• Cartridge Needs Replacement Once Per Year
• Average Family Of 4 Uses 1200-1500 Gallons Annually
• Internal Silt Wrap - Ensures Optimal Performance
• Auto Shut-Off Head for Ease when Replacing Cartridge
• Complete Easy-Install System Includes:
Mounting Bracket, Mounting Screws, Chloramine/UV Resistant Tubing, 90° Stem Elbow, John Guest Angle Shut-Off Valve, Teflon Tape
SPECIFICATIONS

• Overall Dimensions 17.5"H x 6.2"W x 11.5"D
• Spout Reach 9.5"
• Max Counter Thickness 2"
• Recommended Installation Hole: 1-3/8" Diameter
• 10.6" x 2.5" Stainless Steel Escutcheon Plate Included (optional installation)
• Solid Brass Body/Handle
• Stainless Steel Spout
• Ceramic Disk Cartridge
• Flow Rate 1.5 - 1.8 GPM
• ADA Compliant Lever Handle
• Finish Warranty: Chrome-Lifetime, Brushed Nickel-7 Years, Matte Black-7 Years
• 5 Year Functional Faucet Warranty
• Meets or Exceeds the Following:
- ASME A112.18.1
- CSA B125.1
- NSF 61, 372
- CALGreen
- CEC Certified
- ADA Compliant


FEATURES

• Available in Three Finishes - Chrome, Brushed Nickel, Matte Black
• For Use with the 4N1 Aqua-System Filtration System and Instant Hot Water Dispenser
• Touch Sensor Activated Filtered Water and Instant Hot Water
• Delivers Standard Cold/Hot Water
• Pulldown/Flow/Spray Features
• 3-Second Delay Instant Hot Water Activation Safety Feature
• Touch-Release Immediate Instant Hot Water Shut-Off Safety Feature
• Compatible with Other Filtration Systems
• Compatible with Reverse Osmosis Systems
Compact Design
Perfect For RVs and Boats
Unlike other undercabinet brands, the compact configuration fits under nearly any sink. If you're short on cabinet space, vacation in an RV, or spend time on the water, the 4N1 is designed to fit.
The Most Interesting Faucet In The World
Compact Design
By  consolidating multiple systems into one easy fixture, the 4N1 Aqua-System also frees up counter space, allowing you to dispose of water filters, kettles, and coffee makers.
Touch Sensor and Safety Feature
A single touch of the touch sensor delivers filtered water. A touch and hold of the sensor delivers instant, filtered hot water up to 208° and has an immediate shut-off safety feature.
Convenient Pull-Down Spray
The 4N1 Faucet is the only multi-purpose faucet that features a pull-down spray for rinsing, washing dishes, filling pots, and making quick work of cleaning the surrounding area.

The single hole faucet streamlines the aesthetic of your kitchen and conserves space by eliminating the need for multiple spouts. Matching escutcheon plates are included with the 4N1 system and cover plates are available for unused holes.
Next-Generation, Eco-Friendly Technology
Our products are engineered to meet strict environmental standards. We consider the environment in our methods of manufacturing and product design, and offer consumers products that help conserve resources as well.

The 4N1 Aqua-System features the most advanced hot water dispenser on the market. Our patent-pending Baffle-Design pushes cold water towards the bottom of the tank, ensuring hot water rises and is dispensed evenly.

Our proprietary 4N1 Filtration system reduces carbon footprint up to 90% vs. traditional filters, and only needs replacing once per year for an average family of four.
Here's What Our Customers Have To Say
★★★★★

"I am extremely satisfied with this product! The under cabinet system is very compact and has a safety leak detector with shutoff feature. If I ever move from this home, I am taking this faucet or buying the newest model!"
★★★★★


"We absolutely love this faucet. First off the style of it is very sleek and modern and really compliments our kitchen. Having filtered water at the faucet is very handy....but the thing about it that is the best. Instant hot water is extremely handy. If you are looking for a functional and stylish faucet look no further. AquaNuTech have been amazing to work with."
★★★★★


"What an incredible company! When it came time to install they walked me through step by step on the phone and via text. They were so patient with me as I was determined to install without hiring a plumber. With their guided help I did just that! Now I have their amazing product with instant hot water and cold purified water all hooked up. Thank you Tim! I highly recommend this company and their products!"
★★★★★


"Install was super easy! Love having filtered water and hot water all from the same faucet!"
The 4N1 Aqua-System a 2-piece configuration consisting of the 4N1 Faucet and 4N1 Digital Instant Hot Water Dispenser.
The 4N1 PLUS is a 3-piece configuration that includes the faucet and instant hot water dispenser plus our FL1000 filtration system.
The 4N1 Aqua-System is compatible with standard and RO filtration systems on the market. Instructions on how to integrate the 4N1 are included in the installation manual.
Yes, water flows through the filter before entering the hot water dispenser.
Yes. The 4N1 Aqua-System is engineered with built-in automatic safety features to keep your family and home safe.
Touch and hold the sensor and a red LED will fully illuminate. After a 3-second safety delay, instant hot water will be dispensed. As a safety feature you must maintain touch on the sensor while dispensing the instant hot water. Cease touching and the immediately shutoff safety feature will be initiated.
For filtered water, one touch on the sensor will illuminate a blue LED and filtered water will be dispensed.  Another touch ceases dispensing or the filtered water will automatically shut-off after 2-liters.
Yes, for the convenience of filling pans, pitchers etc. Reminder that you must maintain touch on the sensor while dispensing instant hot water.
For safety reasons, instant hot water is dispensed out of a separate dedicated line and cannot utilize the flow or spray functions of the faucet head.
After water is passed through the filter it is nearly see-through. You will know when it's time to replace the filter when the water becomes cloudy and its taste isn't as pure.
An average family of four uses 1200-1500 U.S. gallons annually. Our recyclable cartridge capacity is 1500 gallons, so most households only need to change the filter once per year.
Install, Compatibility, Requirements, Warranty FAQ
A standard 120v electrical outlet is required  under the sink. If possible, use a separate circuit dedicated to your Hot Tank. It is recommended that a separate circuit serving only your electronic instant hot water appliance be provided or use an outlet that can be turned on/off by a switch.
This electronic instant hot water appliance is equipped with a power supply cord with a power plug. To minimize possible shock hazard, the cord must be plugged into mating, ground-type outlet grounded in accordance with all national and local codes and ordinances. If a socket outlet is not available, it is the responsibility and obligation of the customer to have a properly grounded outlet installed by a qualified electrician.
The design is suitable for competent DIY enthusiasts to install themselves. However, if not sure or in any doubt it is advisable to use an approved installer.
Standard installation should be no more than an hour, depending on whether new install in new construction or install with existing sink, plumbing etc. already installed.
No, the faucet must be used with our tank as they work differently to conventional systems on market.
No, as it uses 120V. So Bermuda ; Brazil; Canada; Cayman Islands; Columbia; Costa Rica; Cuba; Dominican Republic; EL Salvador; Guatemala; Guam; Guyana; Haiti; Honduras; Jamaica; Nicaragua; Panama; Philippines; Puerto Rico; Trinidad; Venezuela; Virgin Islands.
Yes. The filter must be changed once per year to maintain the warranty.
Hot Water Dispenser - 3 yrs.
Faucet Finishes
Chrome - Lifetime
Black Matt - 7 yrs.
Brushed Nickel - 7 yrs.

Faucet Functionality - 5 yrs.
If local codes permit, the instant hot water Dispenser feed line should be connected to the hot and cold water supply line using an isolation valve, or another means for providing the hot and cold water to the Dispenser.
IMPORTANT: If local codes do not permit the use of isolation valves, special feed valves can be obtained from your local plumbing supply distributor. If the water is mixed with impurity, ironing chips, grains of sand, and so on, the pipes of the electronic instant hot water appliance and Dispenser will be blocked and will void the guarantee. 
Don't install the electronic instant hot water appliance outdoors or in a location that may fall below 32F, otherwise the pipes and the Dispenser and tank will be frozen. This will cause serious safety trouble, possible bodily injury, accidents, and damage. Should this happen, the guarantee will be void.
Do not wash the electronic instant hot water appliance with water directly. The installation environment should be ventilated, with protection from the direct sunshine.
When installing the electronic instant hot water appliance, provide approximately 10cm to 15cm (4 - 5 ½") of air space on the sides of the unit for air circulation and approximately 2.5cm (1") from the mounting wall.
The environment humidity should be in the range of 10% to 60%. Be sure there is no dew.